At last week's IPv6 Future Enablers conference, Erion's Dr. David Holder gave a presentation on the Implications of Carrier Grade NAT (CGN). This presentation was a brief summary of the findings of the CGN Study that he undertook in 2013 for Ofcom, the UK's telecommunications regulator. The presentation is now uploaded to Erion's web-site and can be found here.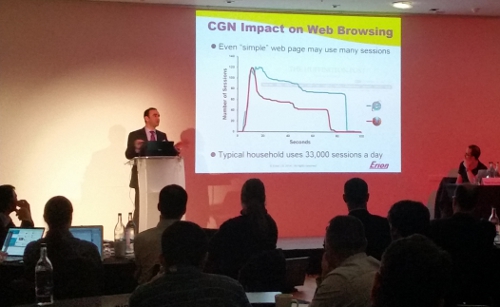 In the Study, David Holder predicted that the downsides of CGN would lead to an increased adoption of IPv6. At the conference this was widely confirmed by fixed line and mobile service providers alike. All agreed that CGN is something to avoid and that IPv6 presents the only realistic long term solution to the IPv4 address exhaustion. Furthermore, all were agreed that IPv6 should be used to bypass the limitations of CGN.
At the conference, BT's IPv6 Programme Director, Stuart Smith announced that BT intend to enable IPv6 for broadband users in 2015. He said that this was in part due to the limitations of CGN which BT trialled in 2013.
This entry was posted on Wednesday, November 26th, 2014 at 2:58 pm and is filed under IPv6, News, Conference. You can follow any responses to this entry through the RSS 2.0 feed. Both comments and pings are currently closed.